Spotlights For Painting & Artwork
Spotlights offer a flexible and highly customisable approach to lighting artwork.
The size, colouring and type of artwork on display (for example canvas, oils or photography), ceiling height, and the type of dimming required, can all be taken into account when designing the perfect lighting set-up.
Working from the general approach of one light per linear metre of track, a range of beam angles can be combined to provide a narrow beam highlighting a specific work, or a general wash of light. Spotlights can be used on recessed, surface-mounted or suspended track, depending on the ceiling height and aesthetics of the space. Whether you need to light artwork hanging in an office reception or lobby area, hallway or meeting room, we can help design the best solution.
---
Configuration Options
Track lighting is extremely versatile and our extensive range of fittings and accessories enable us to deliver a bespoke solution.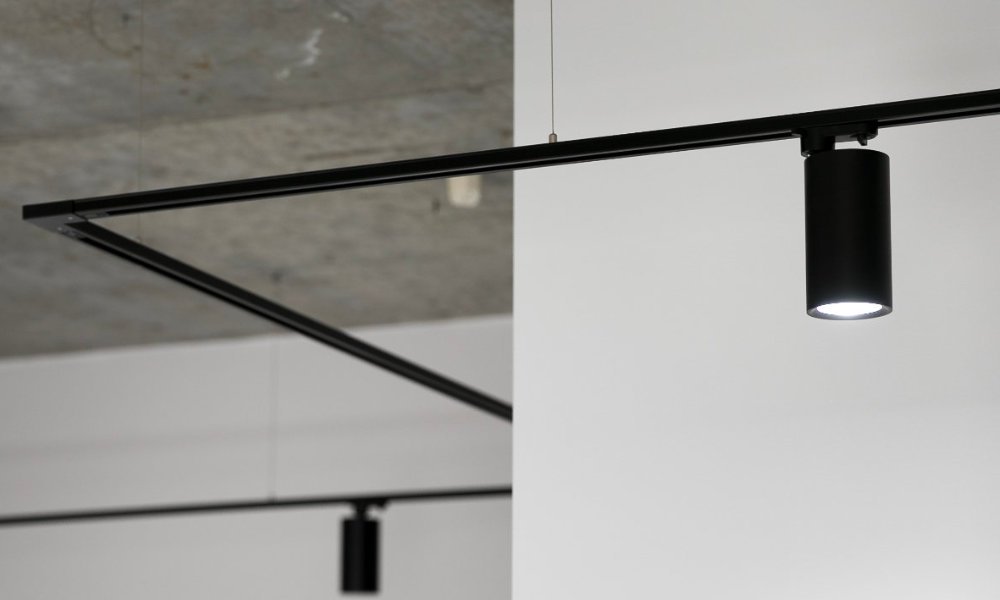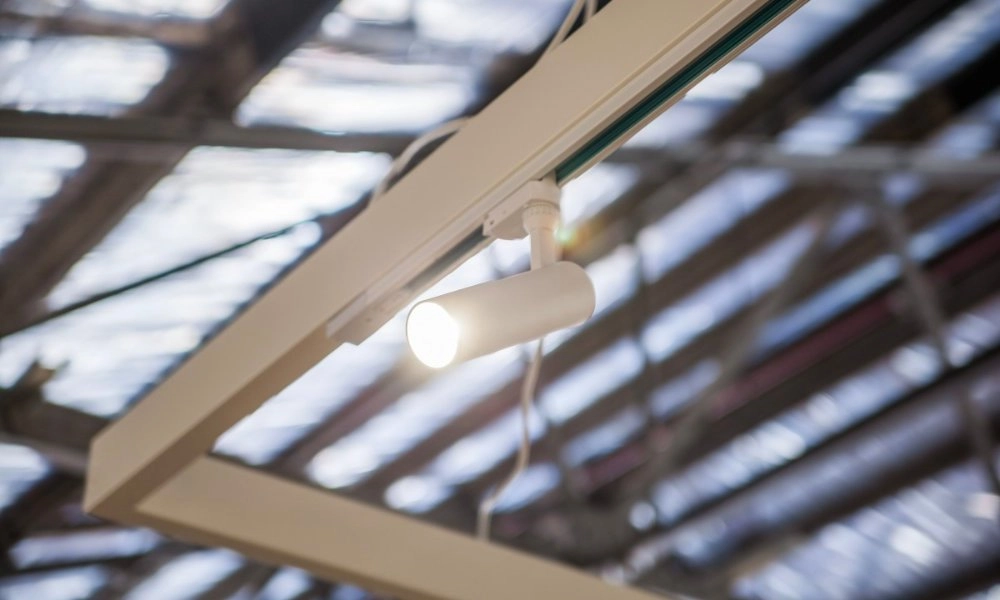 ---
Mounting Methods
Depending on your needs and the ceiling height, track can be either suspended or surface-mounted.
Surface Mounted
If the ceiling is between 3 and 6 metres, suspended track is the preferred option to bring the light level closer to the artwork on display.
We have two suspension kits, offering suspension up to 1.5 or 3 metres. Both kits can be adjusted to the desired length on site, allowing for maximum flexibility.
Surface Mounted Track Lights
Suspension Mounted
If the ceiling is between 2.8 and 3 metres, our recommendation is to use surface-mounted tracks. These offer simple installation, with track screwed into plasterboard, concrete, or any other commonly used ceiling material.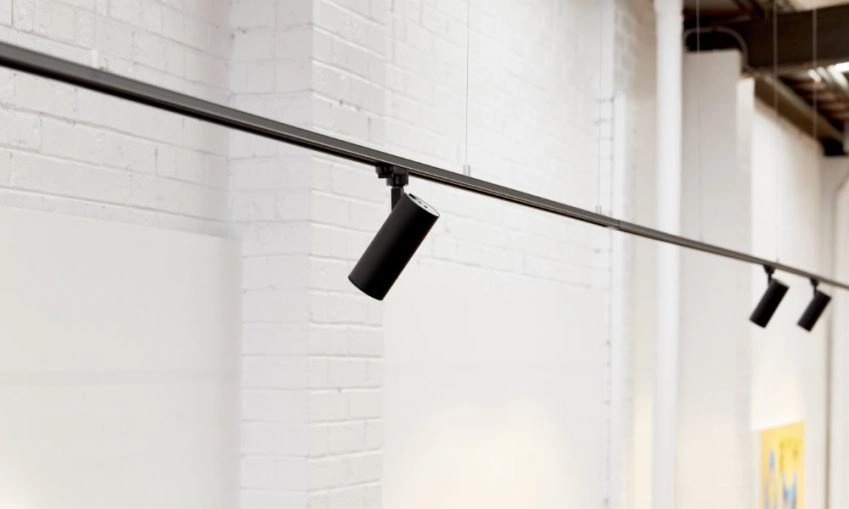 ---
Colour Temperatures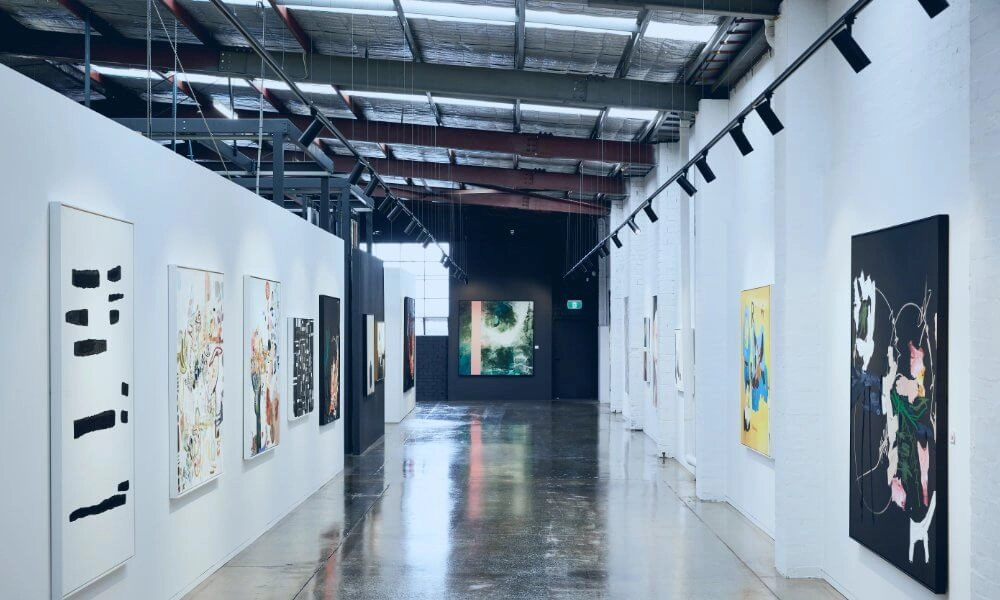 Cool White
Cool white lighting (5000K) has an intense and vibrant white colour, close to natural daylight. It is best suited for areas where task lighting is needed. The natural white light does not distort the appearance of colour.
Warm White
Warm white lighting (3000K) is closer to candle- or firelight, and creates a warmer and more relaxing ambience. It is commonly used in residential projects or in commercial spaces such as cafes and bars to create an inviting atmosphere.
---
Colour Rendering Index
Colour rendering refers to the way that a light source impacts the way a colour is seen by the human eye and how colour variations and shades are interpreted. The Colour Rendering Index or CRI is a scale from 1 to 100. The higher the CRI level, the more accurately the lighting source will represent the true colour of the artwork. 
We recommend a CRI level of 90 when illuminating artwork, to ensure colours are presented at their truest and most vibrant.
---
Dimming Options
As with any lighting, dimming is an important feature which allows for adjustment depending the desired ambience, and the available levels of natural light. There are a variety of dimming options available, and choosing the best method depends on the lighting configuration and the space in which the artwork is displayed. Some of the most popular options are:
DALI & C-Bus Dimming System
This system uses a centralised computer system to allow you to group control dimming, and also provides an on-off function. However, the purchase and installation costs are high, and programming the function of each light can be a slow process. A solution for very large spaces with multiple artworks.
WiFi Dimming
WiFi dimming is a cost-effective option which offers an easy setup. Light fittings are connected with your central WiFi network, and can then be controlled via an app on a smartphone or tablet.
This is a flexible option which allows group dimming, timing, on-off and colour change between warm and cool whites (3000K – 6000K).
Traditional Manual Wall Dimming
A simple method for dimming all lights on a single circuit system via a wall-mounted dimmer. This is an effective solution if there are only a few pieces of artwork on display. A 3-circuit system would offer greater flexibility, allowing three different groups of lights to be adjusted separately.
On-board Dimming
Some light fittings feature a small on-board dimmer, allowing for individual manual control.
Get A Lighting Design
$499
Read more
Read more
Lighting Design Service
If you are building or renovating and not sure which lights to use where, we offer a lighting design service. Simply send us your reflective ceiling plan (floor plan) and let us know your desired outcome. Someone from our design team will access your space and make a calculated recommendation of what type and how many lights you need.
Show Less
Our Products
Our wide range of products provide great flexibility when it comes to illuminating art. We can work with you to select the best lights from our range based on the individual pieces to be lit. The medium (for example oils or photography), the colour, size and shape are all taken into consideration.
We have a variety of spotlights for artwork to choose from, starting at our entry level Gallery Wall Wash range all the way up to premium Le Art and Le Art II ranges. All LED World lighting systems are high quality and their flexibility means they can be adapted if artwork is changed or repositioned.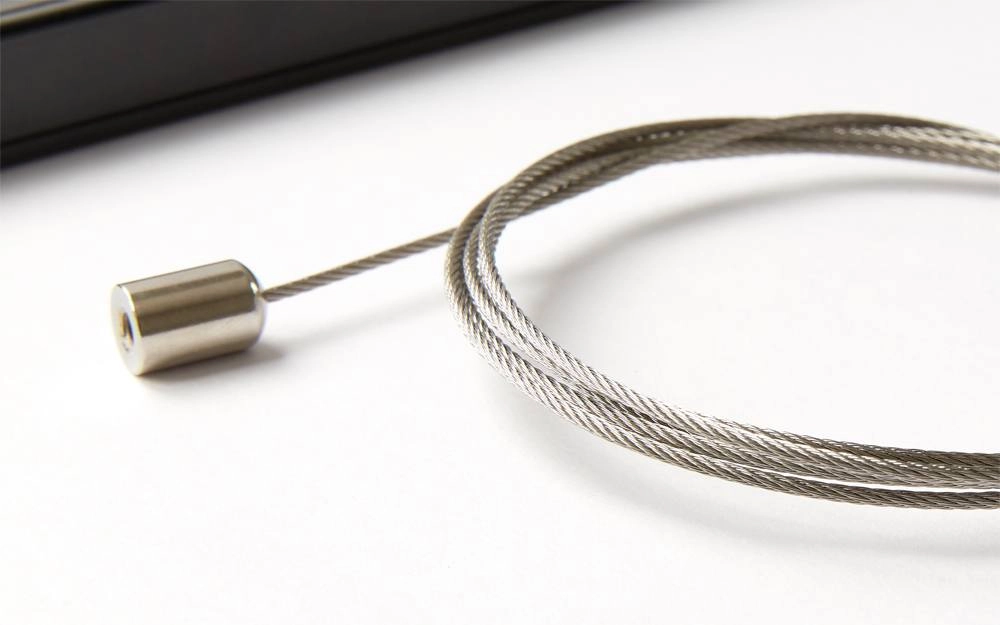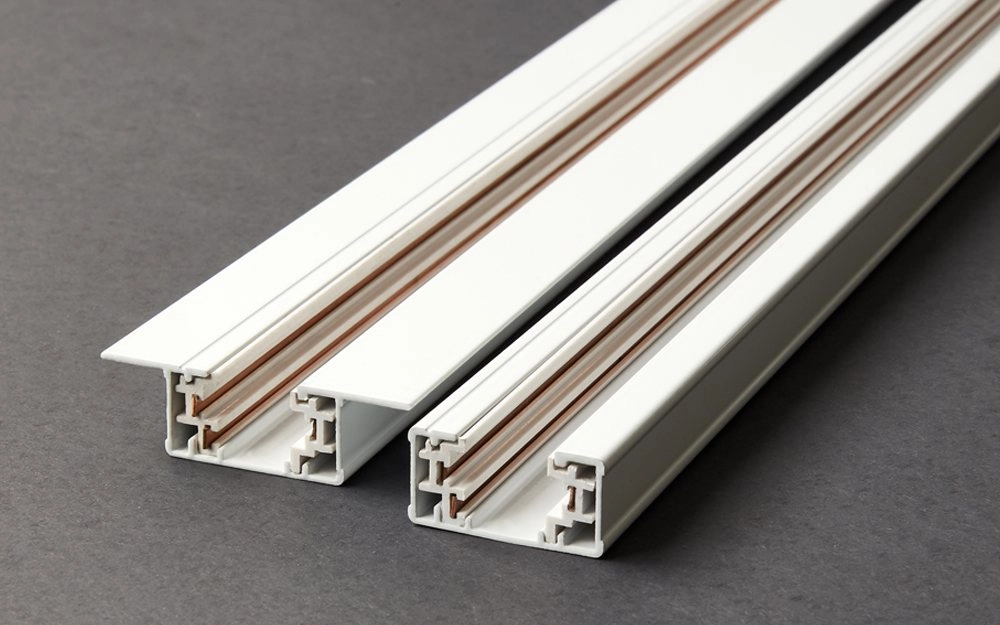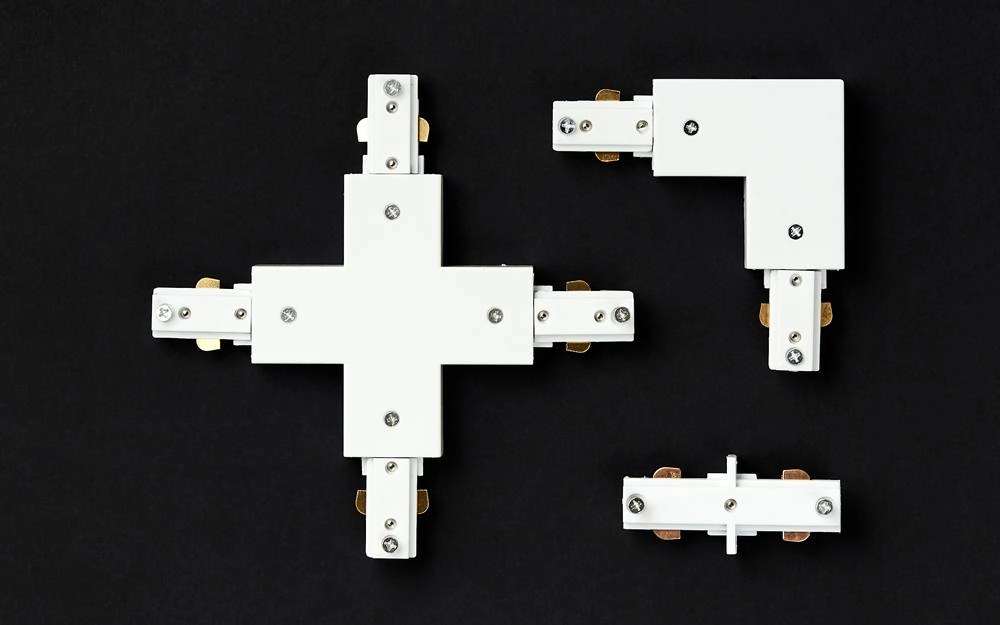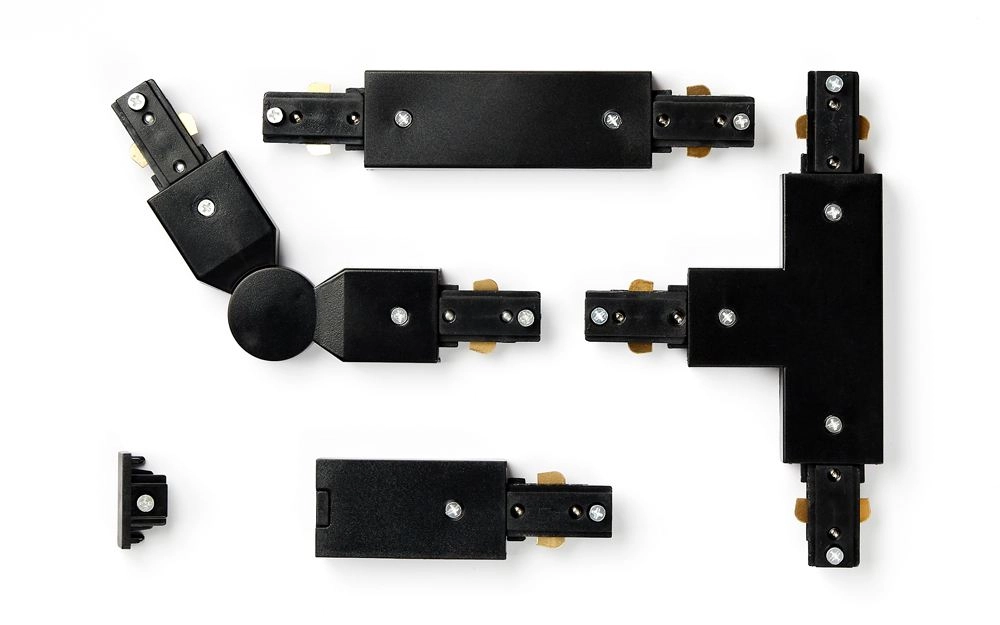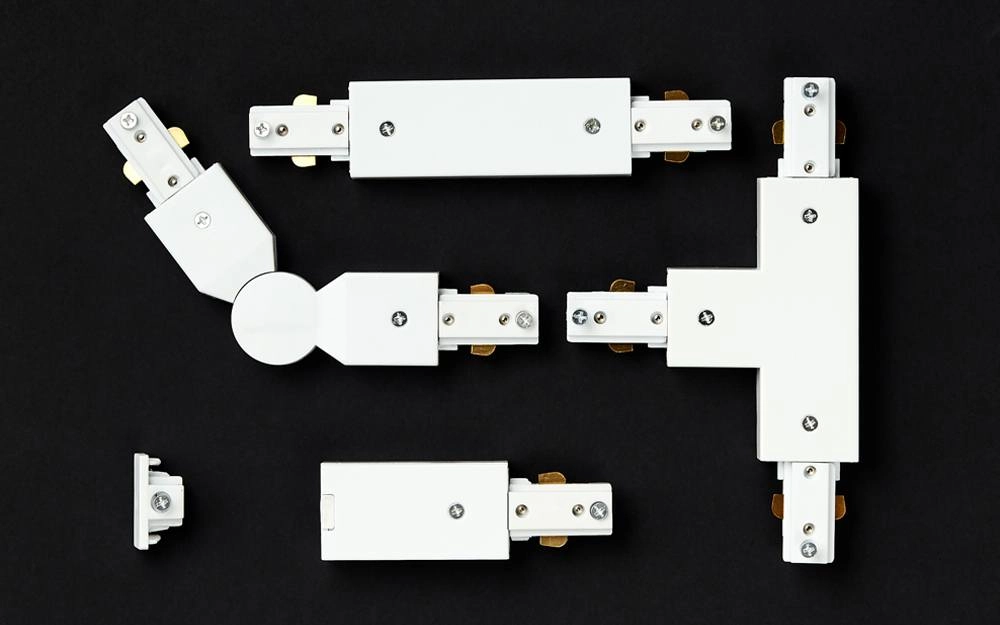 Simon Mundine
LED World Director
Spotlights For Painting & Artwork