Commercial Pendant Lighting
Profile Sizes
All of our linear pendant lights are available in a range of profile sizes. The full range available depends on the mounting method. Our surface-mounted or suspended linear pendants are available in a total of 15 different profile sizes, ranging from 17mm to 120mm. We offer a range of four different profile sizes for recessed linear profiles. If you aren't sure on the best size for your needs, we can help you make the right selection.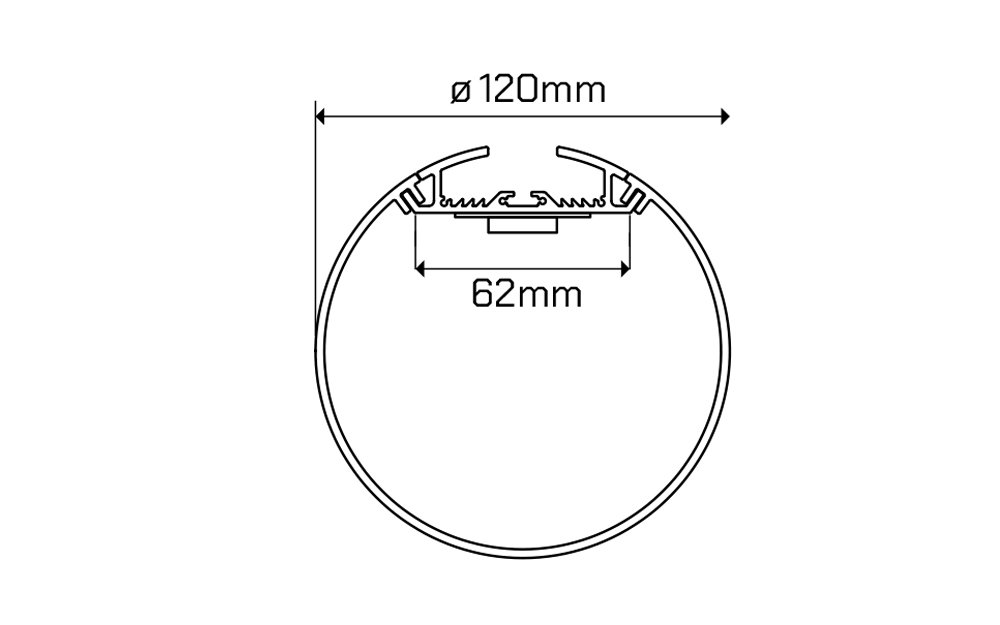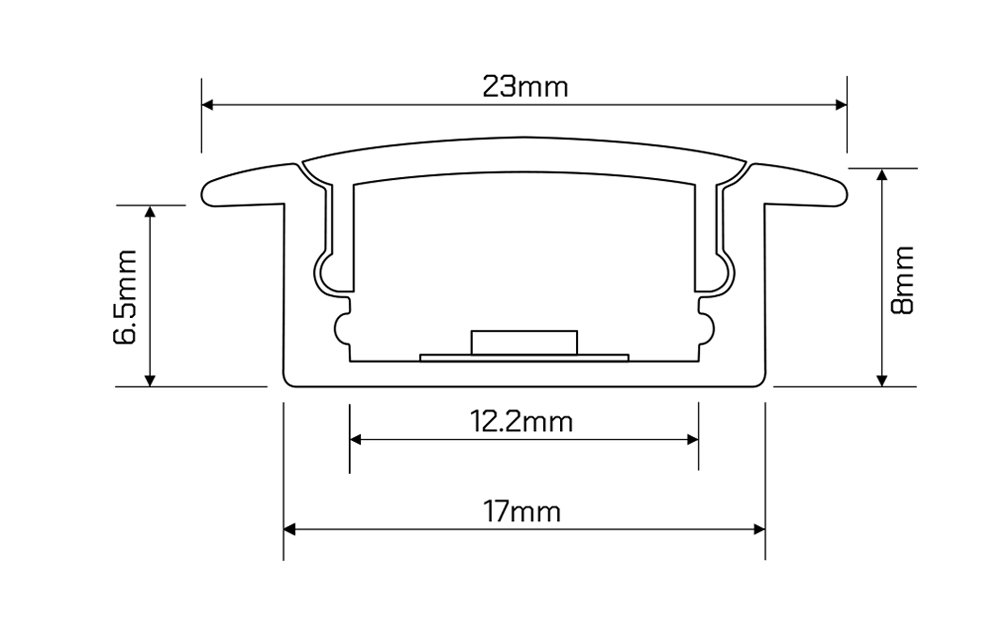 ---
Lighting Directions
Where linear pendants are suspended, there is a choice of three ways in which light can be distributed. The most conventional of these is direct light, where the entire light output is aimed downwards at the area beneath the fitting. Another option is indirect, where light is directed upwards, towards the ceiling. This might be used for a general wash of light to create a certain ambience, supplemented by other lighting at a lower level. It can also highlight certain architectural features. Finally, there is a combination of direct and indirect light. This is where the area both above and below the fitting are illuminated.
Downward Directional Lighting
Up / Down Directional Lighting
Upward Directional Lighting
---
Mounting Methods
There are several options for mounting linear pendants. Suspended If ceilings are high, suspended pendants can bring light down to the required level. Pendants can also be suspended over furniture such as a meeting table, cash desk, display cabinet or reception desk. The suspension height can be adjusted for your requirements. Surface Mounted Surface-mounting attaches the linear pendant directly to the ceiling. This is a simple solution with straightforward installation, used for standard-height ceilings.
Colour Rendering Index
Colour Rendering Index (CRI) refers to how a light source affects the way colour is seen by the human eye, and how colour variations and shade are interpreted. The index works on a scale from 1 to 100, and a high CRI level means that the lighting source will more accurately represent the true colours of the items illuminated. We recommend using high-CRI lights in any commercial setting, to ensure colours are presented at their truest and most vibrant.
Finish Colours
Our aluminium linear profiles are available in three colours, to suit most commercial interiors: Black, White, or Anodised Silver.  
In addition to the choice offered by our range of profile sizes, mounting methods and lighting directions, our linear pendants are available in two materials.
The sleek and architectural design of our linear pendants in aluminium make them a popular choice for commercial spaces such as offices, retail stores and colleges. They can blend seamlessly with a variety of interior schemes and architectural styles when surface-mounted. If suspended, they provide an eye-catching feature hung over a reception desk or meeting room table.
Warning
: Illegal string offset 'sizes' in
/home/customer/www/ledworld.com.au/public_html/wp-content/themes/generatepress-child/content-product-types.php
on line
206
Warning
: Illegal string offset 'categories_prod_homepage' in
/home/customer/www/ledworld.com.au/public_html/wp-content/themes/generatepress-child/content-product-types.php
on line
206
Our linear pendants in Australian timber offer a more rustic alternative to aluminium. The hardwood timber is lightly varnished to show the grain of the natural material. They complement commercial interiors which use other natural materials, and would be an ideal choice for settings such as restaurants, cafes and bakeries. The material can also provide a contrast when used in an industrial-style interior.
Offices
Linear pendants provide a professional and streamlined look that is perfect for office spaces. Their architectural lengths make them an effective solution to surface-mount or suspend over a bank of desks, in lobbies or reception areas, and in meeting rooms. With three different aluminium finishes and a timber option, they suit a wide variety of office styles.
Shopping Centers
Suspended linear pendants are a versatile solution for lighting within a shopping center. They can be suspended from a high ceiling but direct light both upwards and downwards to illuminate large areas. They come in a variety of sizes and a cool white colour temperature and high CRI level provide a daylight-type light that is clear and vibrant.
Showrooms
Linear pendants suit a variety of interiors, with a selection of available finishes. Surface-mounted linear pendants in white can blend seamlessly to give an unobtrusive lighting scheme in a large open space. Or, to break up a space, suspended linear pendants can help divide an open plan showroom creating zones within a display.
Supermarkets
A combination of surface-mounted and suspended linear pendants can cater to different areas within a supermarket. Suspending the pendants brings the light level down to highlight and make an eye-catching feature of certain displays. Surface-mounted pendants can be used in areas where ceilings are lower. With a high CRI level, linear pendants ensure illumination is clean and bright. 
Simon Mundine
LED World Director