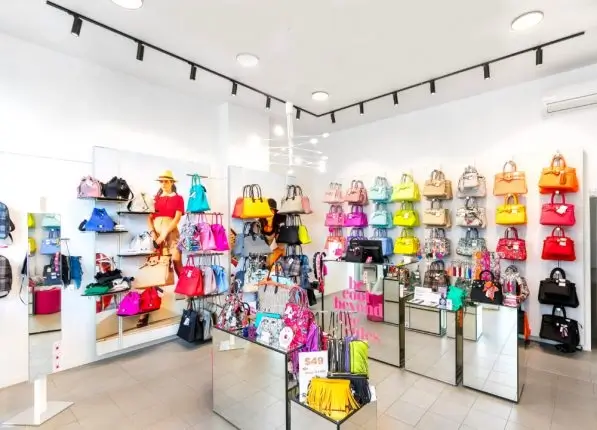 Retail Lighting & Shop Lights
Retail lighting is most effective when products are appeal in an appealing manner, it provides adequate lighting for signage, and creates an inviting environment for the customer. The space should be illuminated in a way that enables the customer to evaluate the quality, colour, and utility of products. In general, the showroom area will benefit from a mix of lighting sources that highlight various standout products or best-sellers.
In this way, feature lighting can act as a guide for the consumer to popular items they might like. From the time a customer notices a front window display enticing them to enter the store, to their eventual purchase at the register, a well-designed lighting plan can influence customer behaviour and perceptions that lead to a sale.
Areas To Consider
Window Lighting
The storefront window is often the first chance for a retail shop to attract a customer so proper lighting that draws attention to signage, wares, or unique displays is a big advantage. These areas of the store need to be both visually appealing and informative – to let potential customers know exactly what kinds of goods they might expect when they walk in.
Spotlights, track lighting, and pendants can be used to create virtually any desired display. Common features of store displays such as mannequins and posters have their own best practices for lighting that may dictate the chosen fixtures for these areas. Versatility is crucial if you want to change displays and should be a key consideration when choosing a lighting plan. Additionally, whether the store is street-facing or in an enclosed shopping mall will have an impact on the amount of light required to illuminate the window display.
Light Boxes
Light boxes display signage or evocative images associated with the store concept and overall marketing plan. They can be very useful for creating visual interest and drawing the eye to a particular area. The location of the light box within the store will determine how it is mounted. It is important that a light box used has uniform illumination so the image is projected evenly. Also, energy-efficiency and low heat emissions will be important for these structures as they can sometimes be quite large.
Point Of Sale
The registers and point of sale areas should have proper task lighting to allow employees to carry out transactions in an efficient manner. Point of sale stations often have computers and monitors so fixtures should be chosen that avoid unwanted glare off of screens. Staff will be interacting with customers in these areas so it should feel comfortable. It is important to ensure that the lighting is consistent in rendering colour as in other areas of the store. This area is also an important place for last minute impulse purchases, so ensuring the registers are well lit will also increase sales.
Fitting Room Lighting
Fitting rooms are places where a customer will evaluate whether an item of clothing suits them so lighting that promotes a flattering image will create a more positive experience. Low glare fixtures are best used in these small spaces since there are usually a variety of mirrors that already reflect a lot of light. Frontal lighting is most flattering because it avoids unsightly shadows but overhead lighting can also be used effectively. The lights should accurately depict the colour of the items.
Product Display Lighting
Product display lighting influences the appeal of products in store. From the moment you enter a store you will notice that certain items are featured, whether it is a certain range or product line. There are many different display configurations all of which can be lit using different strategies to get the best outcome. For the consumer, it is especially important that the lighting has excellent colour rendering so the item's colour and quality can be seen accurately.
Video Series
Being a keen traveller, LED World Director Simon took a study tour of retail concept lighting throughout Europe. He produced a range of videos that outline his expert observations of how leading international retailers approach lighting their stores.
Visual Merchandising
---
Window Display Lighting
---
Product Display Lighting
---
Colour Rendering Index
Colour Rendering Index (CRI) is the measurement of a light source's ability to accurately portray different colours and is measured on a scale from 0 – 100, with 100 indicating the highest levels of colour accuracy. Lighting in the retail industry plays a fundamental part of the business' success. In simple terms, effective lighting generates sales, whereas customers are less likely to enter a store with poor lighting let alone make a purchase.  With this in mind, it is important to install lighting fixtures that have a CRI of 85 or higher ensuring the colour and quality of the products are on full display.
When choosing retail lighting / shop lights, you can't go wrong with LED track lighting for general lighting throughout the space. No other lighting type gives you as much freedom to adapt the design to fit the application. Track lighting allows you to aim the light fittings in any direction, as well as to move them along the track. You can even add or remove fittings if needed. This is an advantage in retail stores, where product displays change regularly and need different kinds of illumination. Track lighting also give the option of dividing light sources, this means you can aim the majority of the light onto products and displays while keeping what is left on central walkways and thoroughfares.
LED Linear profile pedants are a great choice for additional lighting for shop and retail lighting fittings. These can be used above the registers or self-service desks to distinguish these areas from the rest of the store, while adding an architectural element to the design. You can also surface mount or recess these light fittings for a more subtle look. Surface mounting means that the light fitting is installed straight onto the ceiling surface; this is the quickest and most economic method. If you want to achieve a very discreet look, you can recess the fittings so that they sit flush with the ceiling surface. LED World linear profile lights come in standard 1, 2 and 3 meter lengths, but can also be custom made to fit the length of the lighting target. Standard colours are matte black, matte white and anodized, but fittings can be special ordered in any desired colour to suit the interior scheme.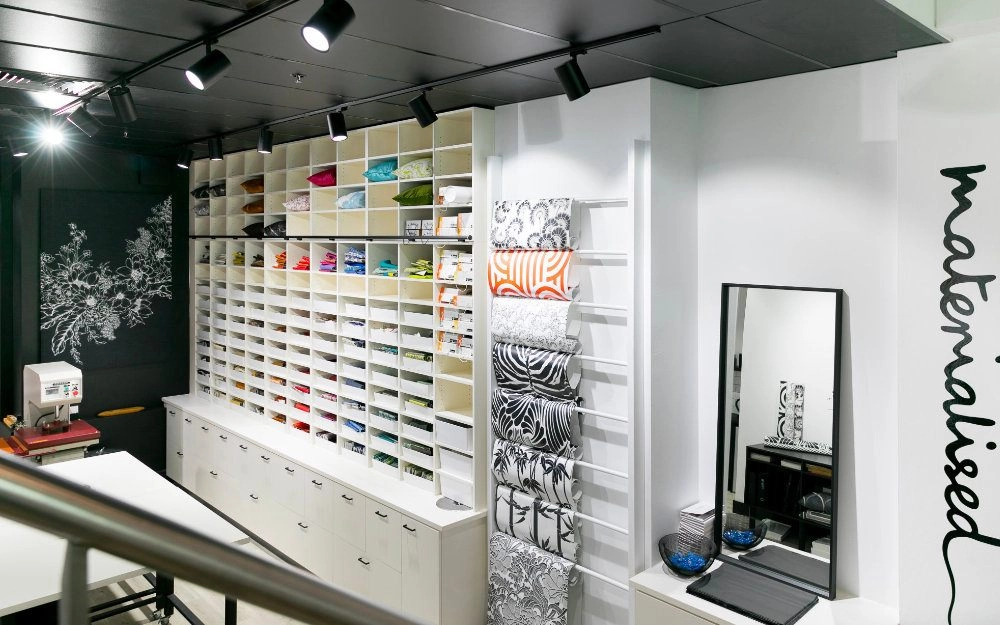 Materialised supplies and manufactures a range of bespoke fabrics for upholstery and custom interior projects. Matte black 30W track lights in a cool white light (5000K) were installed in the showroom. The contemporary matte black finish of the tracks and lighting heads blends well with the dark ceiling colour and complements any fabric colour palette. Using track lighting also allowed the client to customise the direction of the light fittings to highlight different products as stock turns over.
Get A Lighting Design
$499
Read more
Read more
Lighting Design Service
If you are building or renovating and not sure which lights to use where, we offer a lighting design service. Simply send us your reflective ceiling plan (floor plan) and let us know your desired outcome. Someone from our design team will access your space and make a calculated recommendation of what type and how many lights you need.
Show Less
This luxury Italian handbag brand was opening its first store in Sydney and wanted to illuminate its colourful product displays. Black 15W track lights were installed on the 2.8M height ceiling in a cool white light (5000K) with a CRI of 90 to create a highly accurate colour rendering of the products and to highlight their quality. The lighting design utilises the 70/30 retail lighting rule. Here 70% of the lighting was directed at product displays while the remaining 30% is for ambient lighting.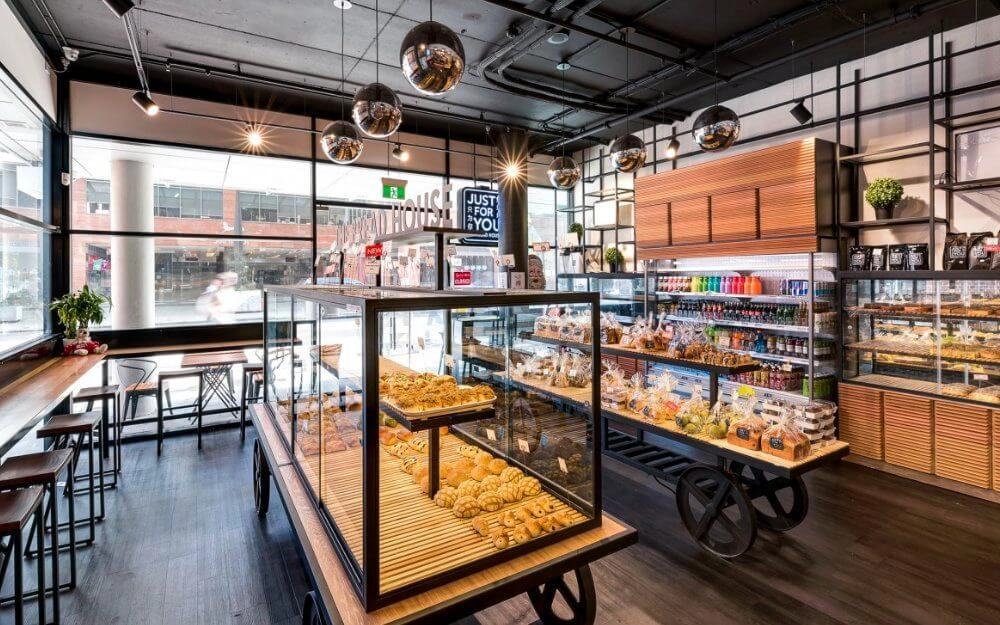 This artisan bakery cafe located in downtown Perth features high ceilings and a strong industrial interior design. Suspended black track with 40W track heads were installed in the charming eatery. The matte black finishes were specified to enhance the industrial feel. Warm white lighting (3000K) was installed to create a welcoming dining atmosphere.
Simon Mundine
LED World Director