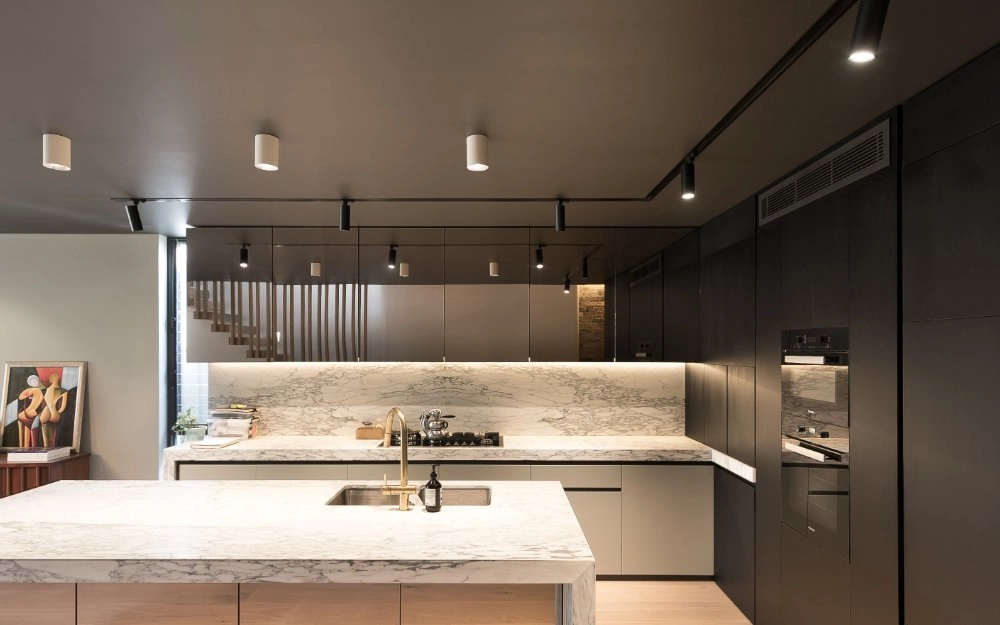 Types Of Lighting
Kitchens require a carefully considered lighting scheme, to provide the right blend of ambient, task and accent lighting.
Checkout our range of Kitchen Track Lighting.
Ambient Lighting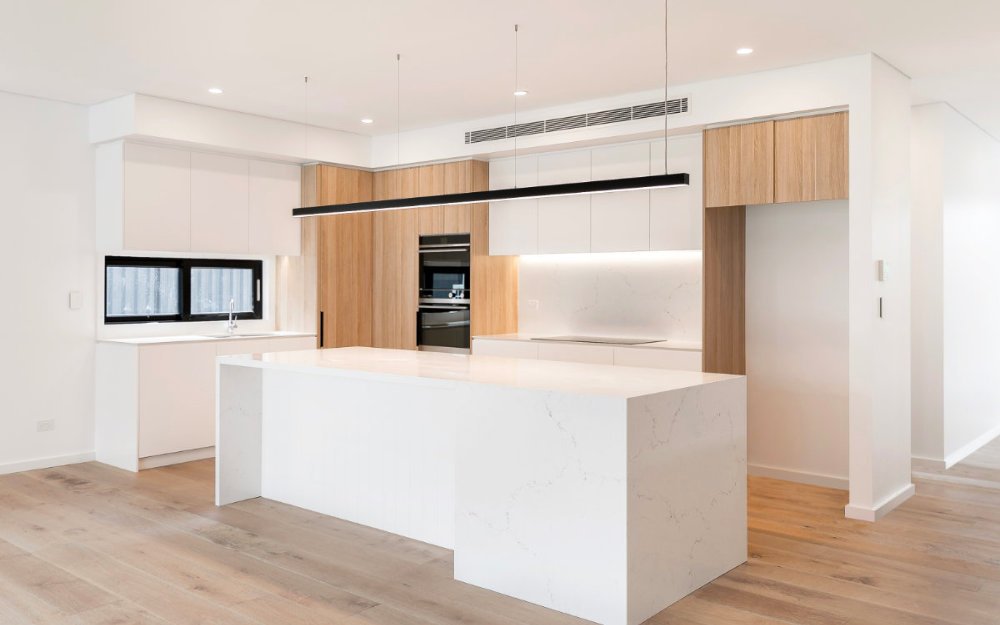 Ambient light provides the backdrop to any lighting scheme. It provides a general level of light to set atmosphere and mood, as well as straightforward illumination. Ambient lighting can be provided by track lights with a wide beam angle, and through using kitchen pendant lighting over island benches.
Task Lighting
Certain areas of the kitchen benefit from directed task lighting, for example work surfaces used for food preparation, or the area around a stovetop. Track lights with a narrow beam angle provide task lighting that delivers clear and bright illumination to carry out specific activities.
Accent Lighting
Accent lighting can pick up on any decorative or architectural features which you may wish to highlight. Lighting a vaulted ceiling, a display of glassware, or a piece of artwork, for example, can enhance the feel of the space and helps establish the desired mood.
---
Other Considerations
Lighting Controls
Kitchen lighting is often arranged on a number of circuits, which group types or areas of light. You may want to group lights over a kitchen island, for example, if it also doubles up as a place to eat. Lighting controls allow you to select which lights you want to use depending on the time of day and your activity, as well as dimming to adjust light levels.
Floor Plan
When designing a kitchen lighting scheme it's vital to look at the floor plan and placement of cabinets and appliances. Understanding how the space will be used means that lights can be positioned in the appropriate places, such as task lighting over a food preparation area.
Natural Lighting
The amount, direction and type of natural light should also be considered when planning a lighting scheme. This includes looking at looking at the position and number of windows or external doors, and thinking about the orientation of the room and whether it gets morning or afternoon light. A kitchen area which is part of a larger open plan space with doors to the garden will need a very different approach to a contained space with just one window.
---
Colour Temperature
Colour temperature refers to the 'warmth' of light as it appears to the eye. It is measured in Kelvins (K), with a lower figure signifying 'warm' light with yellow tones, and a high figure representing 'cool', bluer light.
Cool White
A Cool White light (around 5000K) is close to natural daylight. It offers clear, bright illumination so is most often used in commercial spaces and environments where specific tasks are carried out.
Warm White
A Warm White light (around 3000K) is closer to candlelight or firelight. It creates a cozier ambience and for this reason it's most often used in residential projects, or in hospitality environments such as cafes and restaurants. Warm White light is more atmospheric and creates a relaxed mood.
Track Lighting Series
Our range of track lighting products can provide all of the ambient, task and accent lighting needs of a kitchen lighting scheme. Our track is available in black or white, and in a variety of lengths, from which a design of any size or shape can be configured using our track accessories.
The dimmable 15W track light is the most popular choice in residential kitchen projects and is available with a range of beam angles – a narrow beam gives a focused task light, a wide beam gives a broad wash of light. These 15W lights are available in black or white, and are available in a Cool White or Warm White colour temperature.
We also have task lights in 30W or 40W if you need particularly strong illumination. A 9W track light suits low-use areas.
---
Fitting Colours
---
Linear Lighting Series
Our linear pendant lights can complement track lights in a kitchen lighting scheme. They can be suspended as a feature over a kitchen bench or island and are available in various lengths. Aluminium linear pendants are available in black or white and complement a variety of interior styles. Linear pendants can also be surface-mounted for a more architectural look.
For a rustic alternative to an aluminium linear pendant light, we also offer a timber finish. Made from Australian hardwood timber, these pendants complement a kitchen which uses other natural materials, or work well as a contrast. They look particularly striking hung over a kitchen island with a stone countertop.
Simon Mundine
LED World Director