Restaurant Lighting & Cafe Lighting
Cafes and restaurants are more than just great food. Factors such as service, ambiance, and aesthetics combine to round out the experiences. The best of these establishments provide an appealing environment in which customers can enjoy their food and beverages thus encouraging them to return. Designing a thoughtful lighting plan is a significant part of creating an enjoyable experience. Whether it be a local brunch spot, regular coffee shop, or a fine dining establishment, each of these businesses have a unique lighting design curated for their desired customer demographic.
When considering the lighting for an eatery, it is important to remember that all areas of a cafe or restaurant are also subject to workplace regulations. This includes minimum lighting requirements for both public areas and spaces that are generally out of view such as the kitchen. Being familiar with the specific requirements as well as understanding which lighting products can accomplish your goals is an important part of designing a lighting plan.
Front Of House
The dining areas of a cafe or restaurant should be lit in a way that is appropriate for the desired mood or feel. Whether the business will operate primarily in the daytime or evening will also dictate the types of lighting required. In these spaces, functionality of the lighting as well as a high aesthetic quality that is consistent with the surrounds is essential. It is important to keep in mind that public spaces are subject to specific lighting regulations so decisions on overall design should recognise this.
Kitchen
Functionality is the main concern when choosing lighting for an specialised area such as the kitchen. Choosing lights that will fulfill these needs and workplace requirements is of high importance. Recessed lighting is a good option for these areas as it mitigates the risk of dust settling on light fittings and contaminating prepared food.
Bathrooms & Amenities
Although it is often overlooked, the bathroom should be visually appealing for customers. It is important to consider the bathroom as an extension of the overall restaurant design. While not the most critical area, a well-appointed bathroom displays attention to detail that customers notice. Depending on the size of your establishment, the bathroom may only be used every so often. Lights that are on a timer or sensor can be a good way to avoid unnecessary energy consumption.
---
Colour Rendering Index
Colour rendering refers to the way that a light source impacts the way a colour is seen by the human eye and how colour variations and shades are interpreted. The Colour Rendering Index or CRI is a scale from 1 to 100.
The main focus of any restaurant or cafe is the food. Studies suggest that food that is visually appealing actually tastes better, hence getting the CRI correct is important for customer satisfaction and to keep them coming back. In cafes and restaurants the minimum standard of 80 is required, however a CRI closer to 90 – 95 is better.
---
Track Lighting
Track lighting is perfect for restaurants and cafes that have an adaptive seating plan. The track lighting system lets you slide fittings along the track and rotate the light in various directions without requiring the specialised help of an electrician. This ensures that no matter what the table arrangement, your customers have optimal light.
Track lighting is suitable for a range of commercial and residential applications. The major appeal of track lighting is its versatility and adaptability. The LED World track lighting collection offers endless configurations possibilities that will create a quality lighting design for your project.
---
Linear Pendant Lighting
Suspended pendant lighting is best suited for spaces that have high ceilings because this type of lighting can be adjusted to different heights and change the atmosphere. They can be very effective when used over tables or counters in combination with surface mounted downlights to create a mix of both a general wash and more concentrated lighting effect.
Linear profile lighting has a sophisticated high-end look with the ability to surface mount, recess or suspended the fittings from the ceiling. LED World linear profile lighting is custom manufactured and can be aluminium powder coated any colour required to create a truly bespoke product.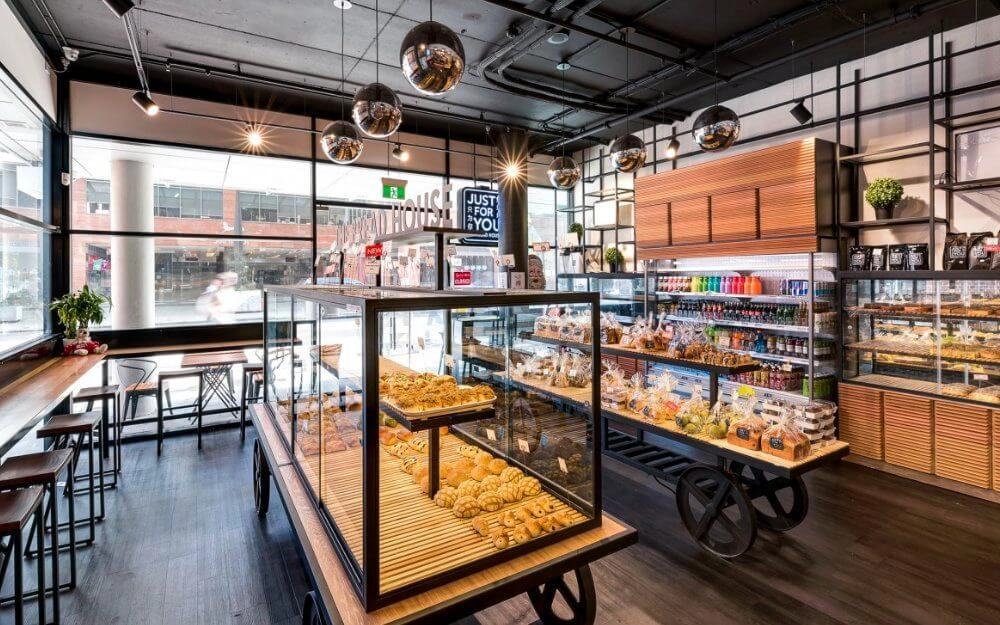 This artisan bakery cafe located in downtown Perth features high ceilings and a strong industrial interior design. Suspended black track with 40W track heads were installed in the charming eatery. The matte black finishes were specified to enhance the industrial feel. Warm white lighting (3000K) was installed to create a welcoming dining atmosphere.
Get A Lighting Design
$499
Read more
Read more
Lighting Design Service
If you are building or renovating and not sure which lights to use where, we offer a lighting design service. Simply send us your reflective ceiling plan (floor plan) and let us know your desired outcome. Someone from our design team will access your space and make a calculated recommendation of what type and how many lights you need.
Show Less
Located in Geelong is this stylish cafe by day and fine wine bottle shop by night. The project called for earthy and refined lighting that reflected the raw elements of the rustic interior. LED World Australian handcrafted hardwood timber fittings were installed in 1M, 2M and 3M lengths over tables and the main bar area. Warm white (3000K) light colour was used to enhance the intimate feel and atmosphere of the cafe.
Simon Mundine
LED World Director